Bullish on Art

Art Market Bullish on Cattle Market

---
By: Villania

– Fabulous art critic-at-large

Hello, bullish art-darlings!
Yes, you've come to the right place, where we're always bullish on art—from an investment angle of course.
This time I want to tell you about Roland DeHaye, an emerging mid-career established artist from Belmont, Wyoming. Mr. DeHaye recently had his first big-city solo show at the Baselhelle Gallery, located in the still-emerging art district of Chelsea in New York City.
Listed in the Top 500 Best Galleries of Chelsea, the Baselhelle Gallery is uniquely poised to offer international collectors the opportunity to experience this unique installation of Post-Western-themed art.
In the show, titled "Bull," city slickers on opening night were treated to the once-in-a-lifetime (we think) adrenaline-pumping experience of a cattle stampede. Yes, you read that right. An actual herd of four-legged bovines rushing frantically through the gallery. Flying turds and all.
I have to tell you, darlings, the show was hailed by art critics as far away as Shanghai and Dubai as a masterstroke of conceptual genius. Ooooooh…don't you just love masterstrokes?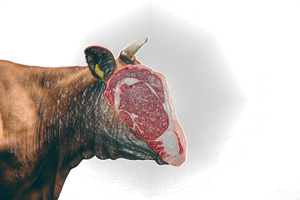 Once the cattle were cleared out of the gallery space by professional (we think) cowboys, the surprised and cowering guests were able to peel themselves off the walls, where they had reflexively clung onto the still-wet paintings.
The effect of the wet paint on the visitors' clothing, and the works themselves, along with the intense odor of several dozen confused cattle and their droppings, made for an art experience to be remembered. Actually, we're not quite sure all the droppings were from the cows.
After the period of shock and awe had worn off, several attending art connoisseurs who happened to be stockbrokers immediately put in bids for the works on exhibit, which by that point also included some of the attire that patrons had been wearing.
Never approach a bull from the front, a horse from the rear, or a fool from any direction. ~ Unknown
It was reported that several Hollywood stars who were present—and wish to remain anonymous—also requested a personal meeting with the artist at his studio for possible future commissions, both on and off-screen.
As you might imagine, Mr. De Haye and his agent, Merry Pitfall, were thrilled that his career was taking off with a resounding "moo."
So just think, darlings, that next bite you take out of a luscious steak or hamburger could have been part of a ground-breaking (literally) art exhibit.
Hugs, kisses, and happy art-investing!
Villania
P.S. – I just can't wait to start trading art futures. This could be more bubblicious than cryptocurrencies.
Bull for the Art Market

♦