The Rediscovered Long-Lost Shoes Of The Invisible Ballerina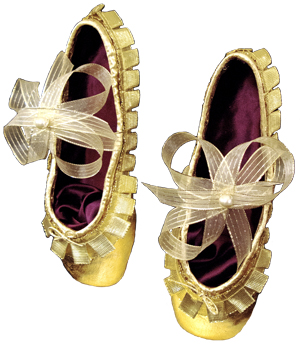 An Amazing, Almost True Story
Of A Mysterious Ballerina
---
Medora Nosipova, a supremely gifted ballerina, was said to have pirouetted so rapidly she dissolved in a blur never to be seen again, leaving no trace until her battered steamer trunk, which vanished en route from Dubrovnik, on the Croatian coast, to Paris, was pried open in a New York City shipping office and found to contain nothing but the tattered remnants of costumes turned to dust; a handful of shimmering bugle beads; and her legendary golden shoes…still turning."
Or so we were once told by a rather dubious-looking fellow with a fine-pointed waxed mustache, near the Moulin Rouge in Paris. For all we know, those gilded, ruffled pointe shoes could have been part of a secret trove belonging to a flamboyant sea captain with a penchant for dancing in a tutu. After all, we really don't know much about most pirates or what they concealed in their treasure chests, do we?
Put a man and a girl on stage and there's already a story;
a man and two girls, there's already a plot.
~ George Balanchine

But pirate couture aside, this is yet another of those mysterious tales from the dark annals of questionable art history. It's the sort of thing usually heard whispered in the gloomy and smoky environs of European cafés or in back alleys where certain purveyors of "valuable art" ply their trade. The provenance of artworks is often untraceable; separating fact from fiction in the stories that attach themselves to such objects is rarely possible. We won't even try to work through this maze. Instead, we'll let you decide.
Nosipova, the mysterious ballerina in question – if that was indeed her real name – was the toast of all of Europe in the late nineteenth century. From Stockholm to Gibraltar, Constantinople to San Francisco, she attracted audiences even larger than do many of today's rock stars and certain celebrity politicians. She was considered the greatest artiste of her time, and yet one day she vanished from the stage. And not unlike Shelley's Ozymandias, her fame and fortune disappeared into the sands of time.
Toe dancing is a dandy attention-getter,
second only to screaming.
~ Agnes de Mille

Little is known of her early personal history. In her adult life, however, she was reputed to have had many lovers of various nationalities and capabilities. Among those who knew her personally she was sometimes called "the Catherine the Great of the Ballet World." Nosipova herself claimed to have pirouetted upon many a nobleman, including a few heads of state and a monarch or two.
But time moves on. Books are written and artworks bought and sold, with or without an accurate retelling of the past. Hopefully, with a little digging through history's detritus, we may some day discover the truth about Nosipova's finale. In the meantime, like our mysterious whirling ballerina, remember to stay on your toes – and be wary of any strange partners you may be asked to dance with. Their tune may leave you shoeless, and your head spinning.
Vanishing Pointe

♦
---
Invisible Ballerina's pointe shoes © Copyright 2015 Nikitas Kavouklés, All Rights Reserved