Anarchist Artist's Priceless Art Collection Destroyed

Anarchist Artist Roils The Art World
Shock and disbelief recently hit the art world when it was learned that one of the world's greatest contemporary artists has immolated his own vast private collection containing mostly his own masterpieces, but also some relatively unimportant works by other "artists" such as Richard Prince, Damien Hirst, Jeff Koons, and Beeple to name a few.
---
By: Kent Wallow

– Reporter-at-large
After blazing new trails in creativity, the artist Klaus von Versi set his works ablaze. Soon after he lit the bonfire that consumed his great artworks, von Vers – a self-professed artist anarchist – has himself gone into self-imposed exile at an unknown location.
One of two items salvaged from the blaze was a partially singed label from his masterpiece entitled #2 that was part of his last public exhibit at the Schentz Gallery in Freiburg, Germany last year. Against the pleading of his agent, Heinz Meitzer, the artist demanded that the event itself was never to be publicized due to his concerns that, according to him, "It would attract hordes of energy-sucking pseudo-intellectual sycophants who only come to eat the sushi."
This might explain why the artist chose to burn his collection at a little-known toxic waste site in hills beyond Freiburg, away from the prying eyes of an adoring public and art dealers. Besides the artist himself, dressed in mourning garb and a black veil, the occasion was also attended by a few close friends and a passing pair of hobos, who used the blaze to cook their lunch.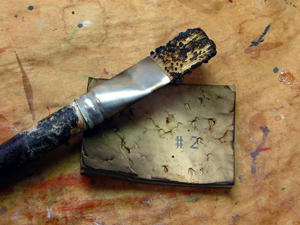 As for the aftermath of the fire, the only other item found semi-intact so far is an old hog bristle brush that is known to have been used personally by von Versi for cleaning his teeth, and on occasion those of his pet weasel, "Clonni." An avid vegan, von Versi was very particular as to what he put into his mouth – with the exception of hog-bristle brushes. He did not, however, find it contradictory that he used implements containing animal parts for his artwork, brushing his teeth, or even basting his favorite tofu dish. When confronted by this contradiction in philosophical ideology, he would respond by saying, "I'm not that uptight, man. It's just part of being an artist and anarchist. I can do whatever I want."
Despite its low profile, the show was surprisingly well-attended once the local sanitation workers union was alerted to it by one of their members, who happened by the gallery as he was sweeping the street during the opening. In fact, someone thought they saw Larry Gagosian and Ann Freedman in the crowd, but it was later proven to be just a couple of cleaning personnel who showed up early.

It's best to make your peace with change,
before it makes pieces of you.
~ Irwin Corey
To add to the catastrophe, no known photographs or videos of the great works by the master artist were ever recorded, so all that is left are the descriptions of the works as told by those who last saw them. But as relates to the work labeled #2, we managed to get hold, by phone, of a billionaire collector who wishes to remain anonymous and was interested in purchasing the piece. He described it as a work of immense intellectual sublimity composed of random scribbles in various shades of gray with one large yellow polka dot near the center of the work symbolizing the hope of peace in death for the toiling masses who served the poor needy elites like himself. According to the anonymous collector, "…it gave me a great sense of liberation from feeling any guilt or shame for my status in life."
A representative for one of the potential auction houses said under anonymity that the little card alone could fetch over $2.4 million dollars, whereas the brush might easily be worth more than double that, due to the fact that it may contain some of the great artist's DNA. We have reached out to Sotheby's, Christie's, MOMA, and the Tate Modern, among others, to get their reaction regarding Mr. von Veri's destruction of his valuable art, but we have yet to hear back from any of them.

The urge to destroy is also a creative urge.
~ Pablo Picasso
When news of the disaster to the art world was finally revealed, Hans Klementz, a prominent local art historian and bartender, was quoted as saying through streams of tears, "Ach! Warum sind die leute weinen über die dummen scheiss?" Which, we were told, translates to, "Oh, what a terrible loss for humanity!"
♦