Artist Chef

Artist Chef Uses Age-Old Ingredients For New Cuisine

---
By: Lectra Shokk

– Food critic-at-large

Electrical wire sculptor and chef Mito Makris is taking gastronomic experimentation to new heights.
Mr. Makris is developing a whole new cuisine that relies heavily on ingredients that have been used by artists for centuries.
Substituting various artist's pigments and mediums for standard cooking ingredients, Mr. Makris believes he has come up with a revolutionary type of haute cuisine that will catch the attention of the most sophisticated and discerning tastebuds around the world.

"In place of ordinary olive oil," he says, "I prefer using boiled linseed oil, for that extra nutty flavor and added thickness. And instead of brandy for a dramatic flambé, it's hard to beat the aroma and flavor of aged turpentine. Not to mention the pyrotechnics!"
Although we at Art Twerks advise our readers to avoid his approach at home, it is difficult to dismiss this original culinary direction outright. Especially in light of the fact that some gourmet ingredients can go for a lot of moolah, as mentioned in this Bloomberg business news article on Luxury Ingredients.

An onion can make people cry but there's never been a vegetable that can make people laugh. – Will Rogers
Chef Makris's ingenious use of common art materials in food preparation not only lowers the cost of a gourmet meal but also allows for a cross-cultural food dialogue that goes beyond traditional ingredients.
For example, instead of imported caviar, he opts for inexpensive droplets of mouth-watering Japanese vegetable soot ink in a delicate egg tempera rémoulade that he hopes will be a hit, particularly with the Sumi-e crowd.
And for you lovers of impressionism, there is the van Gogh Platter, a sunflower salad in a rabbit skin glue emulsion, topped with flavored oil paint foams in small pastry tubes. Although the cadmium and cinnabar colors are highly toxic, the chef plans to provide a special room in his restaurants where deep-pocket gourmands can sample them, along with Pacific pufferfish, or fugu, and other exotically risky delicacies. The room will also be equipped with emergency medical personnel and stomach-pumping equipment, and first-class overnight nursing care. What better way to set yourself apart from the mundane foodies?
Other exciting dishes he has developed have such enticing names as Risotto dei Medici, Shish Kebab à la Caravaggio, and the Socratic Soufflé with its distinctive and tantalizing hemlock undertones.
Mr. Makris intends to eventually introduce his own special line of curated wines made from fermented artists paints. We at Art Twerks can't wait!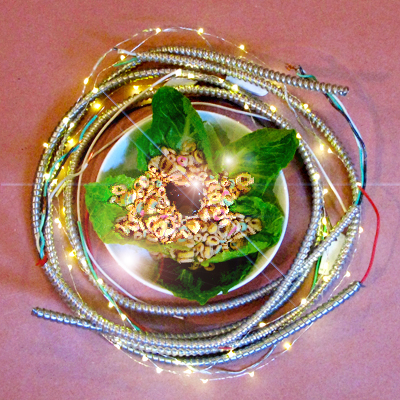 His signature dish, Thwah, is a medley of Cheerios and Fruit Loops that have been gently partially deconstructed by free-range Nubian goats, then pan-seared in Staling Farms linseed oil. According to the chef, this process brings out the true essence of the crisp circular morsels. Served on a bed of electrified romaine lettuce that is harvested from the foothills of Mount Kilimanjaro during baboon mating season, this sumptuous dish is topped with an accent of Peruvian macaw "prunes" hand-dipped in artisanally ground burnt umber.
Plans for his first restaurant, Seethe, are still in the beginning stages. But the artist believes that, with enough crowdfunding, he can fulfill his dream to be the first to offer such unique, if somewhat dangerous, fare to the dining public. After all, who doesn't like a little thrill with their meal every once in while?
In addition to the restaurant, rumor has it that Mr. Makris is in quiet dialogue with various museums in the U.S. and abroad to feature his new cuisine at their opening art receptions. Sir Roger Mittlelipps of the Seenitahl Museum in Bending, England is eager to be the first to hold a show of Mr. Makris's electrical wire sculptures, and to serve his innovative culinary fare.
Mito's concept for the exhibit is to run a low-voltage current through his wire sculptures that is connected to the suspended plates of food. Some plates are themselves lined with a special high-tech film that glows when an electrical current is run through it, producing a marvelous effect that adds another layer to the feast. When asked how he procures his reclaimed wires, Mr. Makris was rather coy about the subject, saying only that they are locally hand-foraged with loving care. It was observed, however, that several buildings in the vicinity of his studio have recently lost power.
When the waitress asked if I wanted my pizza cut into four or eight slices, I said, 'Four. I don't think I can eat eight.' – Yogi Berra
Should this art form catch on, Mr. Makris's agent, Ben Damidge, plans to take the exhibit to events like Art Basel, Art Miami, and Art Blarney. Note that it's probably a good idea to wear shoes with rubber soles to Mr. Makris's events. Unless, of course, you happen to like that little extra tingle with your meal.
Stay in touch with Art Twerks for further developments on the artist and his pending food franchise.
Art Foodies Rejoice!
♦
---
"Thwah" Electrical Wire Image © Copyright 2018 Nikitas Kavouklés, All Rights Reserved