Napkin Art
Waiting Artist's Stained Napkin Art: A Rorschach of Humanity

---
By: Villania

– Fabulous Art critic-at-large

Hello, art-darlings! I hope you've all been misbehaving. What better way to liven up those dreary art openings?
My latest post is about napkin art. Nothing to do with cleverly-folded table napkins, though. Oh, no, puppykins. What I'm about to reveal to you is far more relevant to the art world as we know and love it today. It's all about how to make money from nothing. Nothing meaningful, that is.
As we know all too well, artists, dancers, writers, and other creative people have for ages had to work side-jobs to keep the bills paid and the wolves from the door. One common source of such income is waiting on tables–which can certainly inspire "creative" interactions with patrons.
Conceptual artist and part-time waitress Mida Beane has a show opening at the Tired Mare Gallery in downtown Sedona, Arizona. Her work is a series of assemblages made of used napkins from the local restaurant where she works on weekends.
Even a true artist does not always produce art.
~ Carroll O'Connor
As the artist explains, the assemblages represent a cross-section of the people who have eaten at the establishment over that past 23 years that Ms. Beane has waited tables there: not only what they eat, but their myriad personalities and emotional states as they consume their meals. The amazing effects she has captured in these otherwise banal objects are astonishing to behold. The colors run the gamut from the exciting, vibrant shades of exotic sauces to the subtle yet memorable stains of human saliva, mucus, perspiration, and tears. Not to mention a rainbow array of lipstick shades.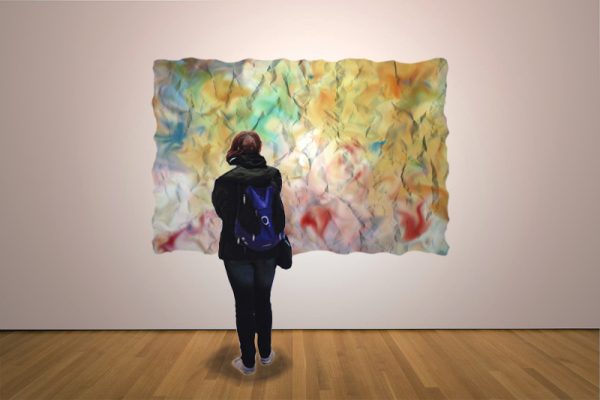 With her perceptive eye and sensitive sense of smell, the artist selected only the most evocative samples of soiled paper and cloth napkins to include in her constructs. In addition to the marvelous color choices, the works exude a lingering odor that will remain with you for days. You can almost taste the chili sauce and goulash gravy—and of course the house special, Frankfurters Benedict, with its tangy sumac and dill-pickle yogurt topping. Some members of the viewing public have even been seen to swoon from the sensory overload of the exhibit. Stendhal would be proud.
It is the artist's business to create sunshine
when the sun fails. ~ Romain Rolland
Like an artist selecting the proper brushstroke, Mida Beane has come up with specific names for each of the various types of stains and smears she offers up for this visual smorgasbord. For example, there is the left-handed nose-to-chin swipe, the amazing ear-to-ear zig-zag, and the ever-popular overhand nose-to-breast stroke. These fanciful forms and more are on display for the discerning collector to savor. The overall effect of the show is absolutely dazzling. You will never look at a discarded napkin the same way again.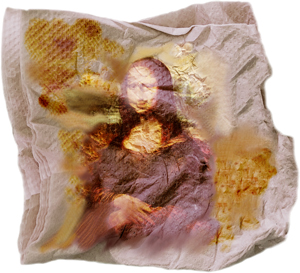 This would not be a proper review if I didn't mention the pièce de résistance of the whole exhibit. It is a small but unforgettable remnant with a remarkable likeness to Da Vinci's painting of La Gioconda, more commonly known as Mona Lisa. Had it not been for Mida Beane's quick thinking, the masterpiece would have ended up in the restaurant's trash. Fortunately for the world, it was spared for all to enjoy.
According to the artist, the amazing food smear was left behind by a homeless man who was passing through town. She had befriended him and given the fellow a free meal at the restaurant. When she tried to get the man's name, he only mumbled something about being in a hurry to leave and go make shopping cart art. Sound familiar?
That's all for now, Artsies. At the very least, this exhibit that will leave you drooling for more.
Hugs, kisses, and happy art-eating!
Villania
Smear while you eat!

♦