Art Fashion Runway Exhibit
Art For Those Who Are Afraid to Enter Galleries

---
By: Villania

– Fabulous Art critic-at-large

Hello, all you art fashionistas! Cheer up…here's some good news.
You've no doubt noticed the rapid transformation of the art market right before your very eyes. In this high-tech age, if you blink you can miss a lot. And with the seemingly endless iterations of marketing, whether online or in physical galleries, some of you have let it be known that it is all starting to get a bit overwhelming. Especially all that derivative trash that is hogging up your bandwidth. Not to mention all those solicitations in your email inbox or on your Facebook page.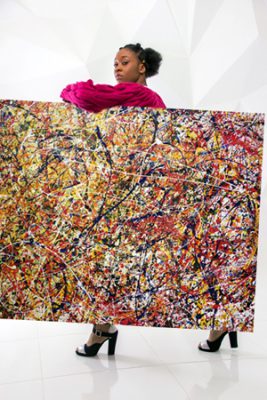 You've heard of wearable art? Well, get ready for the latest runway extravaganza—the first of its kind real art fashion show. In an effort to attract new audiences to the world of haute art, some clever marketer has come up with the idea to "dress it up" for the new generations of, hopefully, the soon-to-be art collectors of the future.
This trend-breaking exhibition will feature live models with period-appropriate figures wearing original works dating from the Renaissance through the mid-twentieth century—from ruddy-face burghers wearing Hals (not Halston!) to Pre-Raphaelite waifs dressed in Burne-Jones (not Jones New York!) to a cobalt blue person wearing Klein (Yves not Calvin!).
We were told that the producers of this fantastic event initially wanted to feature artwork from earlier epochs but have yet to figure out the logistics of how the models would haul around stone sculptures and hieroglyphs. They may have to resort to lightweight foam copies for that one.
Starting with the classics, the first show will include works by such well-known artists as Da Vinci, El Greco, Monet, Edvard Munch, Berthe Morisot, Degas, Mary Cassatt, Picasso, Pollack, and the great Gulley Jimson just to mention a few. Now their art will be presented to a select audience in a unique and entertaining way. Let's face it darlings, unlike those odd creations modeled by emaciated waifs, these fashions will never go out of style because they are already classics in their own right.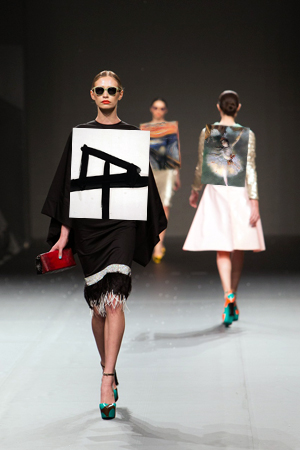 Speaking of runways, this event will be held on an actual runway. The locale the producers have chosen is a modest and long-defunct airfield once known as Wahoo Strip. This small field near the Florida Keys was famous for its murky role in arms smuggling during the fun days of the Nicaraguan conflict, and the great rum served at the tiny cafe near the runway.
For at least two decades in its early history, the small airfield had the distinction of being the only runway in the world that looked like a large exclamation mark when viewed from the air. The "dot" a little to the south of the remaining runway was due to the shallow impact-crater left after local rum-runner and flight enthusiast Bob "Runnie" Eldie crashed his World War I surplus Curtiss Jenny biplane, due to a run-in with a flock of seagulls. Fortunately, Runnie survived the crash, as the plane hit a soft spot in the ground, which itself was surrounded by marshes.
The leading cause of death among fashion models is falling through street grates. ~ Dave Barry
As luck would have it, or not, the accident occurred on October 24, 1929—the exact date and time that stocks on Wall Street took a swan dive and heralded the beginning of the Great Depression. Local folklore has it that many of the original residents of the area blamed poor Runnie for that too, and sent him packing for distant parts. His last known location was a small desert town by the name of Las Vegas, where he ran a modest brothel for a few years. But enough about Runnie and his pastimes.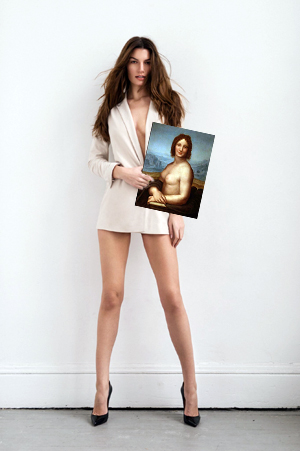 For the marvelous occasion, the various sponsors have plans to restore the airstrip and its surrounds to their original prewar beauty, replete with dense foliage, swamps, mosquitoes, and alligators, among other local flora and fauna. In addition, the first 100 guests will receive genuine WWII bomber jacket replicas made of real vinyl. Each jacket will bear an original decal image depicting King Kong on top of the Empire State Building. We were told the reason for this is that the CEO of the biggest sponsor loves that scene from the old 1933 film. He also lobbied for a 12-foot Kong "model" sporting a framed image of the Tower of Babel by Pieter Bruegel the Elder to join the other models on the runway. He was talked out of this concept, however, and was promised a private screening of the original movie instead—complete with popcorn, a Fay Wray lookalike, and an actor in a gorilla suit to watch it with him.
Style is a simple way of saying complicated things. ~ Jean Cocteau

Rumor has it that the guests of honor might include Pee Wee Herman, Kanye West, and an Elvis impersonator, who will be chauffeured to the location in a rare 1959 Edsel Citation. How's that for class, darlings?
The producers are hopeful that this way of presenting art to the public will take off. And if it does, they will plan additional events that will feature more up and coming contemporary artists. Regardless of how it all comes together, the glamorous show promises to be for the art world what the Oscars are to Hollywood. I hope to see some of you there.
Ta-ta for now, all you lovelies.
And remember who loves you…
Villania
Art on the move!

♦
---